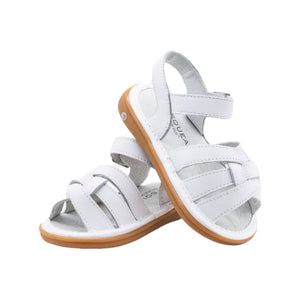 Our Emma sandal is classic and sweet style! It is made of breathable, genuine leather and faux buckles with a hook and loop closure.
Our sandals have supportive footbeds, and adjustable hoop and loop straps. She'll love wearing them and you'll love their durability and convenient on/off style.
Soft, yet tough. With soft and comfy man-made uppers and flexible rubber soles, your little one will want to wear them every day. What's more, they'll stand up to those tumbles and turns along the way, offering great value for money.
Easy on and off. These shoes open up nice and wide – no more struggles to get those chunky little feet inside! Just hook and loop to get the perfect fit. Simple!
The 'squeak of success'. As with all Wee Squeak styles, our "Fisherman" sandal comes with the trademark 'squeak of success'. Whether it's encouraging those first steps or keeping track in a busy mall, the squeaker provides that added peace of mind and encouragement needed in your little one's development.